Overview
Today Blackburn College delivers employment focused courses to 16,000 P/T and F/T learners aged 16 to 90 from entry level up to Masters level. While such accolades are pleasing there is never scope for resting on our laurels.
This includes a state-of-the-art Regional Automotive Technological Centre (RATH) built in partnership with industry and a new £13.5M Sports Centre built in collaboration with Blackburn with Darwen Council to support the health and wellbeing of our local community. These extensions are due for completion in 2014 and will give the College and Blackburn with Darwen some of the best facilities in the UK.
Why choose Blackburn College?
Find Your Course
Apprenticeships give you the opportunity to earn money whilst having the chance to gain a nationally recognised qualification at the same time. This will provide you with valuable work experience that employers are looking for.
We offer Intermediate, Advanced and Higher Apprenticeships, which is equivalent to a Foundation Degree
Apprentices can be matched with an employer, or can be an existing employee who would like to gain a qualification
Apprentices score 4% higher on 'employability' than university graduates.
Accommodation
This is recommended for International Students. With Homestay Accommodation you will be allocated a host family who will welcome you into their home like a member of their family. During your study period you will have your own bedroom and study area within the household. All utility bills are included with this accommodation and you won't need to provide towels, bedding or kitchen equipment as that's all included too! Home stay families expect you to mix with other family members and help out with household chores.
Our host families come from a range of backgrounds. You might find that your host family is a family or a single person who has rented out one of their rooms. You might find that your host family has younger children – or a family pet. We will try and match any requirements you might have with your host family. Host family accommodation generally have Internet access but this might not be Wifi.
You can choose either room-only or a half-board basis. Half-board basis means your breakfast and evening meal will be provided.
How to Apply
5 Steps to Apply
1. Apply
If you are an International Student (from outside the EU) you will need to complete your application through our Online Application Portal.
2. Interview
The International Team will contact you and an assessment and Skype interview will be done
3. Offer
An offer letter will be sent to you after your interview is completed successfully
4. Acceptance
You can accept your place by paying a deposit and providing us with a bank statement to show the funds available to cover fees & 9 months accommodation/living costs
5. CAS Issued
Your CAS letter is issued allowing you to apply for your Visa.
Please remember, as an international student you can only apply for courses at Level 3 and above.
Education System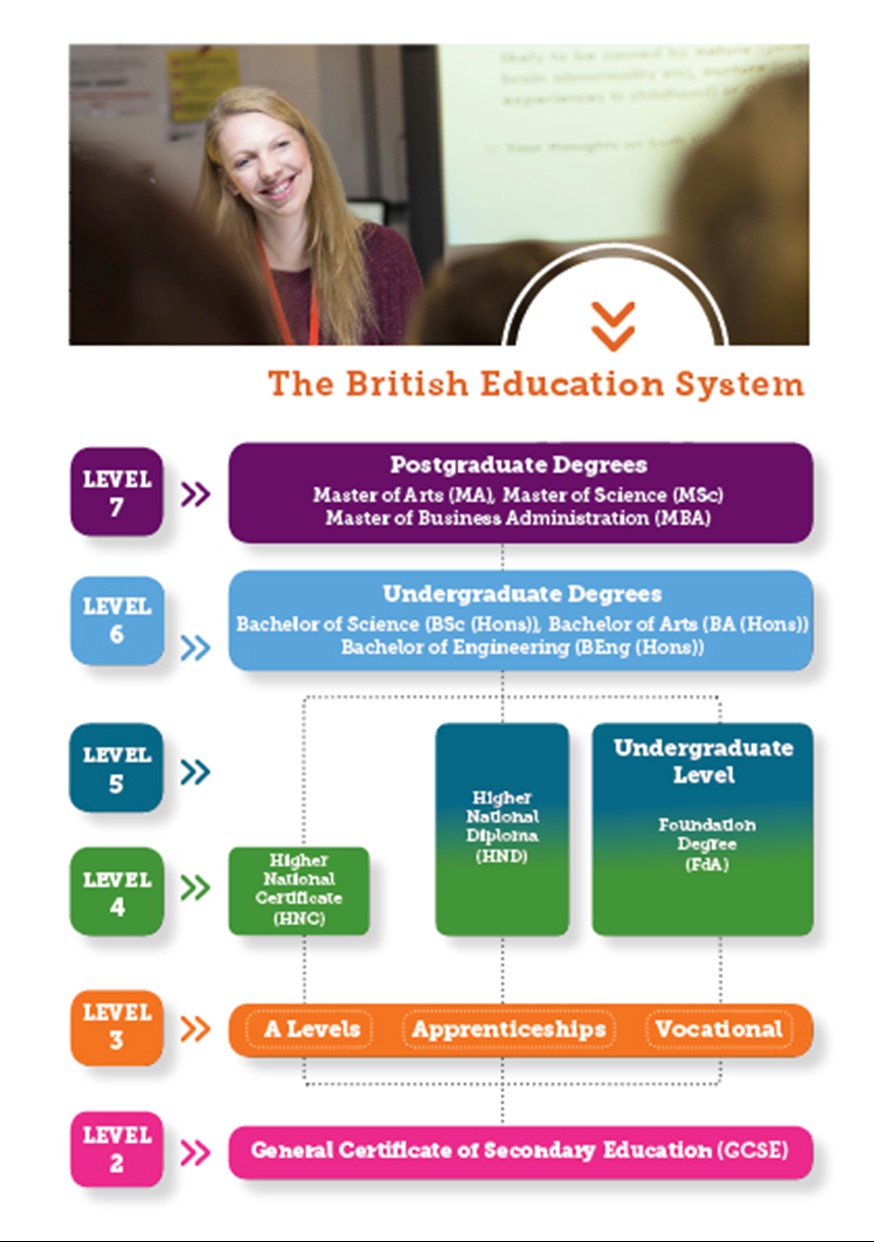 Entry Requirements
English Language Requirements
Below is the required level of English scores required to study on the courses offered by Blackburn College.
The English SELT providers are IELTS; TOEFL; TOEIC the scores from the test determine your eligibility to study the certain level of course.
If you do not have the required SELT Score and wish to study on an undergraduate course you will need to ensure you take part in the Pre-sessional English or Inter-sessional English course for which there is an additional cost.
Our most popular courses
Some of the most popular courses our International Students choose are listed below
We have hundreds of courses in a huge range of subjects whatever your specialism, choose from  A Levels, HNC's, HND's, Diplomas, Degree's and Bespoke English Language courses which can all be found here:
COURSE
Access To HE
Accounting & Finance
Adult Apprenticeships
Business
Business with Accounting or Law
Business, Retail & Management
Catering & Hospitality
Childcare & Young People
Computing
Computing & IT
Construction
Creative Arts
Education, Coaching & Teaching
E-Learning
Employers
Engineering
English as a Foreign Language
Full Time
Hair & Beauty
Health & Social Care
Health, Social Care & Counselling
Humanities
Justice
Languages
Law
Maths, English, ICT & ESOL
Media
Motor Vehicle
Music
Part Time and Short
Public Services
Science
Social Science
Social Science & Humanities
Sport
Sports, Fitness & Wellbeing
STEM
Travel & Tourism