Brisbane North Institute of TAFE
Brisbane North Institute of TAFE (BNIT) is firmly positioned as one of the most successful public providers of vocational education and training in Queensland. It is one of the largest TAFE institutes in Queensland, with over 22,000 students across four campuses.
BNIT not only provides students with quality education facilitated by exceptional teaching staff but also offers pathways to greater opportunities through established partnerships with universities and relevant industries.
By continuing to meet the evolving needs of our staff, corporate partners and students, the number of people choosing BNIT is growing every year.
Sustainability
Brisbane North Institute of TAFE will be recognised as an environmentally aware organisation, committed to reducing its carbon footprint by accepting our personal and collective impact on the environment and by realising our future potential to grow communities.

Academics
Animal sciences
Do you like working with animals? Together with our local Australian students you will learn all about caring and nutrition for dogs, cats, birds and small mammals. This course includes practical experience at animal refuge centres.
Certificate III in Companion Animal Services
Arts
Explore your creative side and become an artist or designer with real work opportunities – our practical art and design programs are fun and help you to further develop your art skills.
Certificate IV in Interior Decoration
Diploma of Visual Art
Business
Choose your business specialisation – business administration, accounting or complete our Diploma of Business and receive one year credit into a Bachelor degree at a major Queensland university.
Diploma of Business (incorporating Cert IV in Business)
Diploma of Justice Administration
Children's services
Do you like working with children? Our Children's Services programs offer you great study options with practical experience in a real workplace.
Certificate III in Children's Services
Diploma of Children's Services (Early Childhood Education and Care)
Fitness
Certificate III in Fitness
Diploma of Fitness (incorporating Cert III and IV in Fitness)
Health and Community services
Develop skills and knowledge to work in the community services sector, providing support to individuals and groups. Programs include practical experience in a real workplace.
Certificate III in Aged Care
Certificate III in Community Services Work
Diploma of Community Services Work
Horticulture 
Certificate II in Horticulture
Certificate III in Horticulture
Diploma of Horticulture
Hospitality
Practical work placement in industry and hands-on training in our fully equipped facilities will get you ahead of the crowd in this exciting career. Choose from hospitality management, kitchen operations or cookery.
Certificate III in Hospitality (Commercial Cookery)
Certificate II in Hospitality (Kitchen Operations)
Certificate III in Hospitality
Diploma of Hospitality
Information technology
Study the latest IT technology – systems administration, networking, software development, screen, visual effects or graphics – at our modern, friendly campus. Our Diplomas give you direct entry into 2nd year Bachelor of IT programs at several top Queensland universities.
Diploma of IT (Networking)
Events and tourism
Do you have good people skills and want an exciting career that takes you around the world? Our programs in event and tourism operations management will give you the practical skills and qualifications to take you a step above the rest.
Certificate III in Events
Certificate III in Travel
Diploma of Events
Diploma of Tourism
Campuses
With four campuses and numerous delivery points servicing over 22,000 students across Brisbane's northside.
Bracken Ridge
Caboolture
Grovely (Keperra)
Redcliffe
Accommodation
BNIT's International Student Services Officers will provide you with information regarding accommodation that meets your personal and financial requirements. Specific information is available on matters such as tenancy agreements, electricity and telephone connection and the purchase/rental of household goods.
Most students want to live within walking distance of an Institute campus, but that is not always possible and is greatly determined by availability and cost. It can be more convenient to live further from the campus but be closer to shopping centres and transport.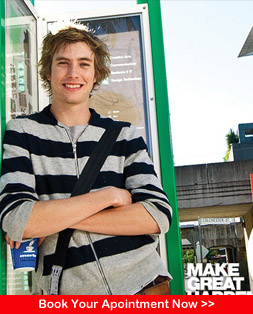 COURSES
BNIT offer a range of courses for international students. Courses offered are in areas in demand including:
• Accounting
• Aged Care
• Animal Services
• Arts
• Business Studies
• Children's Services
• Community Welfare
• Cookery
• Events
• Graphic Design
• Horticulture
• Hospitality
• Information Technology
• Justice Administration
• Travel and Tourism
PATHWAYS TO UNIVERSITY
BNIT has established direct entry pathways to selected universities, where credit of up to one year's study is given towards Degree programs after the completion of the relevant TAFE Diploma program. This provides students with two internationally recognised Australian qualifications resulting in high graduate employment.
---
 PATHWAYS TO EMPLOYMENT
BNIT is an internationally recognised education provider in a number of specialist areas that are in demand and is one of the leading institutes in the government network partnering with Australian industries.
Programs are reviewed regularly to ensure they match current workplace demands and include the relevant industry skills.