Overview
Based in the West of Edinburgh, we are one of the largest further education Colleges in Scotland and enrol around 18,000 students a year.
We offer a range of courses from Introductory courses and NQs (National Qualifications) through to HNDs (Higher National Diplomas), BTECs and Degree Foundation. We now also offer Degree level courses in Music Performance and Photography.
We have a variety of study modes available from full-time, part-time, day release, evening, e-learning and open learning. You can find out more information about the range of courses we have on offer in our courses section.The College also runs a number of vocational programmes as well as European Funded Programmes.In addition, Stevenson works closely with the community to attract more people into learning and provide help for people who need to improve their employability skills.
Why choose Edinburgh College?
Location
Scotland and the UK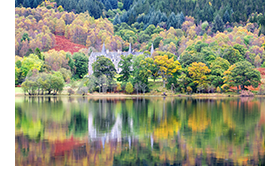 Scotland is a country of five million people located in northern Europe. We are one of four nations which make up the United Kingdom. With the UK one of the most sought after destinations for international students, Scotland continues to attract thousands of international students every year who seek world leading education in a safe and culturally diverse environment. Scotland has long held a reputation for providing the best education available.
As the 6th largest economy in the world, with world leading industries in banking and finance, engineering, science, innovation and technology, and a multibillion pound tourism industry, the UK offers learners a wealth of knowledge, expertise and opportunities.
Accommodation
There are many different accommodation options in Edinburgh; here we have listed those we think offer the best value for money and suitability for College students.
• Homestay
• On Campus Accommodation
• Private Student Residences
• Private Rented Accommodation
Homestay 
Live with a local host or host family on a half-board or self-catering basis. Homestay is a great way of learning more about the life and culture of Edinburgh, and to practise everyday English language skills..  The cost of Homestay accommodation can vary depending on whether you choose self-catering or half board (dinner & breakfast provided) options. All utility bills are included in the weekly cost. If you are looking for a "home away from home",  contact the International Team on accommodation @edinburghcollege.ac.uk or phone +44 (0) 131 559 4646 for more information. 
"The International Team organised homestay accommodation [for me] near to the College. Living with a local family has been a great experience. They've really helped me a lot since I arrived here." 
ZAEEN RAHIM – International Foundation Programme India
On-Campus Accommodation 
We have two on-campus student residences at our Milton Road and Granton campuses. 
Private Student Residences 
There are private student halls of residence in Edinburgh which are not owned by the College but aimed at students at the city's universities, as well the College. The weekly cost is usually higher than homestay accommodation. Most have a good central location with bus connections to the College. Examples:
1. UNITE 
2. iQ Edinburgh
3. The Student Housing Company 
Private Rented Accommodation
If you plan to rent a flat or apartment yourself, it is important to consider additional costs such as electricity / gas bills and Council Tax (a local council payment which some students may need to pay). It is also important to understand any contract you are asked to sign for private rented accommodation. Contact the International Team to find out more: accommodation@edinburghcollege.ac.uk
Fees
Financial considerations are one of the most important aspects when considering studying abroad. As well as the tuition fees, you will need to consider the cost of living and explore if you are eligible for a scholarship.
Tuition Fees for 2015/16
| | | | |
| --- | --- | --- | --- |
| Programme | Start Date | Duration | Fees* |
| Higher National Certificate/Diploma (HNC/D) | August 2015 | 1 year | £7000 |
| Introductory Course | August 2015 | 1 year | £6600 |
| International Foundation Programme | August 2015 | 1 year | £7200 |
| Academic English / General English | August 2015 | 1 year | £5000 |
| ​Academic English / General English | Aug 15 / Jan 16 | ​1 semester | ​£2800 |
| ​General English plus Academic Preparation | ​August 2015 | ​1 year | ​£6700 |
| ​General English plus Academic Preparation | ​August 2015 | ​1 semester​ | ​£3800 |
| English Language Summer School | July/August 2015 | 2,3,4,5,6,7 weeks | £460+ |
Entry Requirements
• Minimum 11 years of school education with good results in subjects relevant to the International Foundation Programme you apply for
• IELTS 5.5, with minimum 5.5 in each component band, or equivalent. (Social Science Highers require a slightly higher level of English ability – IELTS 6.0.)
• Students will also be required to meet us for an interview via Skype.
Fees
The annual tuition fee for international students, applicable for both January 2015 and September 2015 intakes.
the tuition fee any international student will pay may be much lower as we have many attractive scholarships for international students which may go up to full tuition fee waiver.
Undergraduate     ——>     £11,500
Postgraduate         ——>      £13,500
NEW COLLEGE FOR EDINBURGH AND THE LOTHIANS
In 2012 Stevenson College Edinburgh, Edinburgh's Telford College and Jewel & Esk College are planning to merge to become a New College to serve Edinburgh and the Lothians.
You can find out more about the merger including the proposed timeline, the consultation process and a summary of the merger proposal in this section of the website.
If you would like further information or have any questions, please contact newcollege@stevenson.ac.uk.
ACCREDITATION AND AWARDS
The College teaches programmes from a number of internationally accredited bodies. However, the vast majority of our programmes are accredited by the government's Scottish Qualification Authority (SQA). Others include:
City & Guilds
EDXCEL
Chartered Institute of Personnel and Development
Chartered Management Institute
Institute of Leadership and Management
CIM
NEBOSH
We also hold UKBA Highly Trusted Sponsor status and are regularly inspected by Education Scotland.
The College has won a number of awards for our international activities. Some examples are:
 Association of Colleges (AoC) Beacon Award for International Student Support
(Granton and Sighthill campuses)
AoC International Charter – the first college in Scotland to do so! (Granton campus)
Scotland's Colleges Equality and Diversity Award 2012.
Edinburgh College is also accredited by the British Council for the teaching of English language.
INTERNATIONAL ACTIVITY
Our activity spans countries from Argentina to Zimbabwe.
The College is engaged in a range of international activity including:
International student recruitment
Teacher development programmes
Professional training
European mobility programmes
Transnational Education programmes and partnerships
On-campus international student support
10% of the College's overall student body comes from outside the UK, with 96 countries worldwide represented. The College's international strategy targets growth, particularly in the development of international partnerships, engagement with industry and the extension of a College presence overseas. Our target opportunity areas include oil and gas training, English language teacher training, construction services and hospitality.
GENDER AND DISABILITY EQUALITY
We are proud to be one of just two colleges in Scotland to receive the LGBT Youth Scotland Charter Mark. Awarded by the charity LGBT Youth Scotland, the Mark recognises organisations' high standards of support for young lesbian, gay, bi-sexual and trans-gender individuals.
Stevenson College Edinburgh is committed to promoting inclusion and diversity for all staff and students, as noted in our Strategic Plan. You can also see our Gender Equality Scheme and Action Plan for more information.
We have worked hard to ensure that our Disability Equality Scheme produces real outcomes and practical improvements to the experiences and opportunities of disabled people, both as staff and students. You can see our Disability and Equality Annual Report
COURSES
Here you can find out all you need to know about the courses we have on offer at Stevenson. We have over 350 courses in a wide variety of subjects ranging from Music to Computing, Retail Management to Childcare, Legal Studies to Sports Science and more.
2012/13 COURSES
Use the 'Course Search' box on right of this page to find a course you are interested in.
ALTERNATIVE FORMATS
Text-only versions are available for the production of large print or braille. Audio versions can also be made available. Please email Student Advice or phone 0131 535 4700 to request a prospectus in one of these formats, specifying the format required.
APPLYING FOR A COURSE
Applying for a course could not be easier.
To apply for a course, you first need to use the course search or the course A to Z listing. Once you have found the course you want to apply for, select the 'Apply Now' button at the top of the course details page.
If there are a range of options, you will be presented with a box so you can choose the way you want to study and the start date. Selecting 'apply now' from this box will take you to our online application form.
NOT SURE WHICH COURSE IS FOR YOU?
We know that deciding which course to study can be a difficult decision. So, before you apply for a course, you can book an appointment with one of our Admissions Advisors. They can help you identify your interests, discuss your choice of course and help you with any other questions you may have about studying at Stevenson.
No matter what your level of experience or qualifications, we are sure to have a course to help you get to where you want to be.
You can book an appointment with an Admissions Advisor by emailing us or phoning 0131 535 4700.
DISCLAIMER
Stevenson College Edinburgh reserves the right to withdraw or modify any courses offered. If a course does not run we will try to provide an alternative. If courses are cancelled fees will be refunded.