MSc International Fashion Marketing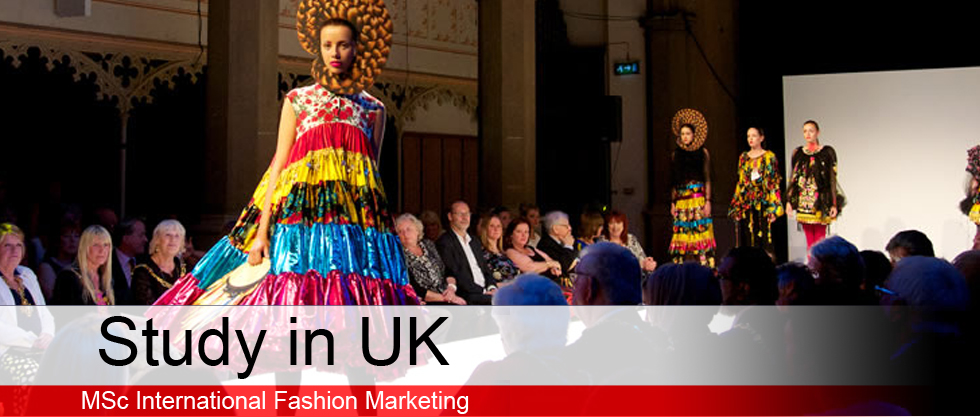 Overview:
The MSc International Fashion Marketing is fast-paced, exciting and innovative. It provides you with the intellectual, creative and practical marketing skills necessary for a successful career working in the fashion industry.
Designed to challenge and inspire, our course will develop your international business knowledge, fashion marketing expertise and personal skills for a successful career in fashion marketing.
We focus on the core concepts and principles of fashion marketing, coupled with contemporary international issues in fashion marketing, integrated fashion communications, global marketing and brand management.
You will gain practical and creative skills in key areas of fashion marketing centring on consumer insights, marketing planning, branding and use of digital technologies. 
Programs
Intensive and academically challenging, our MSc International Fashion Marketing programme will equip you with the essential international business knowledge, fashion marketing expertise and personal skills demanded by businesses operating in today's increasingly competitive and global environment.
You will develop the ability to analyse relevant academic theories and apply models, tools and techniques to real fashion marketing situations. On the courses, you'll be challenged to develop independent, inquiring and creative approaches to strategic fashion marketing issues and problems.
Our programme includes a broad range of key fashion marketing subjects complemented by a focus on practical application and specialist areas such as logistics, buying and merchandising, fashion business analysis, integrated fashion marketing communications and market research.
Our graduates are equipped with the specific industry knowledge and strategic leadership skills to succeed in this fast-paced industry.
Structure
The full-time programme involves three trimesters over the course of the year.  The structure of your programme will vary slightly depending on whether you join in September or January.  However the journey will be equivalent irrespective of your joining date.
Modules
Strategic Decisions in the International Fashion Marketplace
Consumer Led Fashion Marketing
Digital Fashion Branding and Delivery
Global Strategy; Challenges and Choices
Contemporary Issues
Personal and Professional Development
Research Methods
Dissertation
Strategic Decisions in the International Fashion Marketplace
Reflects upon fashion brand creation and maintenance, fashion communication decisions, routes to market, the role of retail, pricing decisions, critical pathways, operationalization and implementation, contingency planning and strategic evaluation.
Consumer Led Fashion Marketing
Focuses on consumer-led practices within international fashion marketing. Given the aesthetic nature of fashion the module pays particular attention to the visual components of the communications mix.
Digital Fashion Branding and Delivery
Explores the role of technology as well as the theoretical and creative process involved in the development of fashion brands and comprehensive digital marketing campaigns.
Global Strategy; Challenges and Choices
Enables you to develop a critical understanding of challenges and choices in the global business environment and implications for management.
Contemporary Issues 
Explores the geo-political, economic, social and technological environments pertinent to the fashion sector and encourages you to critically reflect upon these issues in the context of fashion marketing. The module uses contemporary case material based on existing companies in the sector that the School enjoys unparalleled access to.
Personal and Professional Development
Enables you to identify, understand, develop and articulate your personal abilities in the context of your future career aspirations.
Research Methods
Develops your advanced skills related to a range of research methods needed for academic and practical research at a Masters Level.
Dissertation
The final element of the programme is the dissertation, which provides students with an opportunity to design and undertake a piece of original research in a selective area of brand management.
Employment Prospects and Opportunities
The MSc International Fashion Marketing provides you with an exceptional opportunity to specialise your skills and knowledge for a successful career at the core fashion organisations.
Graduates of the programme have developed careers in buying and merchandising, brand management, market research, sales, marketing communications, direct marketing and media planning in organisations of all sizes and some have gone on to start their own fashion businesses